Evergreen to invest RM40m to restore plant in Thailand
| | |
| --- | --- |
| Evergreen to invest RM40m to restore plant in Thailand | |
IPO Watch by Goi Tee Ching
Main board-bound Evergreen Fibreboard Bhd is investing another RM40 million to restore a factory in Thailand it had bought in February 2005 for RM75 million.
Managing director and chief executive officer Kuo Jen Chang said by June this year, the Hat Yai factory will have a full capacity of making 350,000 cu m of medium density fibreboard (MDF) per annum.
This is more than double the output of the current 160,000 cu m for MDF a year.
"Our Johor factories are already producing 240,000 cu m per annum. We hope with this additional production; we will see RM520 million revenue by December 2005.
"It'll be a 30 per cent growth from 2004's estimated sales of RM400 million." he added.
Established in the 1970s, Johor-based Evergreen Fibreboard's core business in making MDF has also included particleboard and complete-knocked-down furniture.
The group, whose headquarters and main manufacturing site are located on a 10.12ha in the Parit Raja Industrial Estate, also has three production facilities in Johor (two in Pasir Gudang and one in Segamat) and an overseas venture in Thailand.
Apart from CKD furniture, MDF is also used in women's high heels and interior shelvings of motor vehicles.
Kuo was speaking to reporters in Kuala Lumpur after signing an underwriting agreement with Aseambankers as the adviser, sole placement agent and managing underwriter for Evergreen Fibreboard's public issue of 93.66 million new shares of 25 sen each.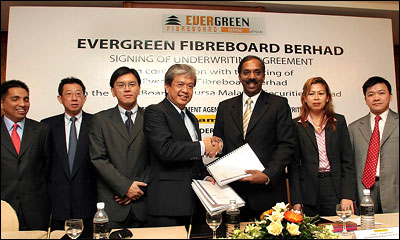 Other underwriters are Mayban Securities Sdn bhd, Malaysian International Merchant Bankers Bhd, RHB Securities Sdn Bhd and Mecury Securiies Sdn Bhd.
Out of the 93.66 million shares to be issued, 24 million shares will be made available through balloting, six million through subscription by directors and employees of the group, 10.66 million by private placement and the remaining 53 million by placement to Bumiputera investors.
It will also make a restricted offer for sale of 113.0 million shares, comprising 41.5 million shares by way of private placement and 71.5 million shares for placement to approved Bumiputera investors.
Kuo said the company hopes to raise RM106.77 million form the public issue, oh which RM60.56 million would be used as additional working capital, RM32 million for the repayment of borrowings, RM9 million for the purchase of property and equipment, and the remaining RM5.21 million will be used to pay off listing expenses.
"Currently, about RM320 million worth or 80 per cent of our MDF is exported. Our customers are spread out in 40 over countries, including the US, Vietnam, China, Japan, Taiwan, South Korea and Jordan," Kuo said.
Upon listing, Singaporean Kuo said , his family will hold 28.5 per cent equity in Evergreen Fibreboard.
- New Straits Times, February 1, 2005
31-Oct-2019