Evergreen Thai Production Revenue to Hit RM250 Million in 2007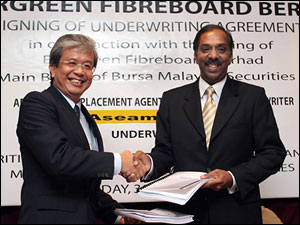 KUALA LUMPUR, Jan 31 (Bernama) -- Evergreen Fibreboard Bhd, world's third largest medium density fibreboard producer (MDF), expects its Thailand's second production line to go on stream in the second quarter of this year.
The total revenue from these two lines is expected to hit RM250 million in 2007, its executive director, Kuo Jen Chiu told reporters after the company's signing of underwriting agreement today in conjunction with its listing on the Main Board of Bursa Malaysia.
The completion of the second production line, costing between RM30 million to RM40 million at its existing Haadyai factory, would increase its over all earnings by 45 percent.
He said the present Thai fibreboard plant with one production line had a capacity of 160,000 cubic metres per annum and this would double in the second quarter this year with the second production line.
"In future the Thai plant production capacity will exceed Malaysia's MDF production of 240,000 cubic metres per annum," he said adding that the MDF produce would be solely for the Thai market.
To cater for rising global demand for MDF, a material largely used in the product of furniture, women's shoes and motor vehicles, Evergreen plans to set up a RM3 million chipping plant in Indonesia.
The plant would help to produce chipped rubber trees, a main source of raw material used in MDF and this would then be exported to Evergreen's manufacturing units.
Kuo said existing rubber trees in the country, amounting to nearly 1.3 million hectares, were adequate to meet current production demand for MDF.
As part of the company's listing exercise, Evergreen would offer 93.66 million new ordinary shares of 25 sen each in its public issue.
Meanwhile, Aseambankers Malaysia Bhd deputy chief executive, T. Jeyaratnam said the resurgence of interest in initial public offering (IPO) was more evident as seen in the over-subscription rates.
"The recent IPOs on the Main Board of Bursa Malaysia have enjoyed over-subscription rates, of up to 18 times.
"These signals are very encouraging and coupled with Evergreen's position as the leading integrated producer of engineered wood-based panel products, we are confident that Evergreen's IPO will be well-received," he said.
The company plans to raise RM106 million when it is listed in the Main Board of Bursa Malaysia by mid-March this year. - BERNAMA
- Bernama.com, January 31, 2005
31-Oct-2019