Evergreen aiming for turnover of RM520m
Media Coverage

Evergreen aiming for turnover of RM520m [ 29 Jan 05 ] New Straits Times

Evergreen aiming for turnover of RM520m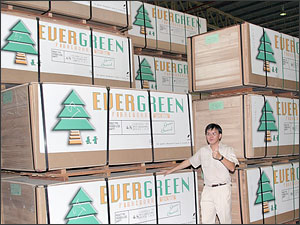 IPO Watch by RAVI NAMBIAR
Johor-based Evergreen Fibreboard Bhd, which will be listed on the main board of Bursa Malaysia Bhd soon, is targeting a group turnover of RM520 million this year.
This will amount to 30 per cent growth from the RM400 million recorded last year.
Executive director Kuo Jen Chiu said the improved business outlook is due to a rise in demand for medium-density fibreboard (MDF) products globally.
Evergreen is an integrated producer of quality engineered wood-based products from MDF, which are made from residual rubber wood and have numerous applications.
MDF consumption is expected to rise by 51 per cent from 2001 to 20.1 million cum in 2006, and up to 30.8 million cum in 2008.
"As a leading producer of MDF in the country, Evergreen is moving forward strategically to tap this rising demand in the Asia-Pacific region," he said.
Kuo was speaking to the press during a factory tour in Parit Raja, about 120km from Johor Baru, on Thursday.
For its listing exercise, Evergreen will make a public issue of 93.66 million new shares of RM0.25 each at RM1.14 each. The public portion will comprise 24 million shares, directors and employees (6 million shares), private placement (10.66 million shares) and for Bumiputeras (53 million shares).
Evergreen will also make a restricted offer for the sale of 113 million shares, compromising 41.5 million by way of private placement and 71.5 million for placement to approved Bumiputera investors.
Kuo said the company hopes to raise RM106.77 million from the public issue, of which RM60.56 million would be used as an additional working capital, RM32 million for the repayment of RM9 million would go for asset acquisition for business expansion.
The group, whose headquarters and main manufacturing site are located on a 10.12ha in the Parit Raja Industrial Estate, also has three additional production facilities in Johor (two in Pasir Gudang and one in Segamat) and an overseas venture in Thailand.
"We have invested more than RM380 million to date in these five production sites," Kuo said, adding that the company was keen to expand its market presence overseas and develop new business opportunities.
Since its inception 27 years ago, Evergreen has build a diversified customer base of 374 clients in about 40 countries, including the US, Vietnam, China, Japan, Taiwan, South Korea and Jordan.
"Currently, 80 percent of our products are for the export market," he said.
Evergreen's range of MDF products includes materials for building interiors, profiling, joinery and millwork applications like furniture moldings.
The company also uses MDF to make household items such as picture frames and games boards, furniture and fixtures like kitchen cabinets and shelves and automotive products like the interior parts of cars.
- New Straits Times, January 29, 2005
03-Mar-2020