Big plans in store for Evergreen
EVERGREEN Fibreboard Bhd is expanding its operations in a bid to become a leading fully integrated fibreboard maker.
Executive director Kuo Jen Chiu said this would further strengthen the company's position internationally.
He said Evergreen, one of the top five producers of fibreboard in Asia, aimed to be among the top three.
"The company has started on the expansion plan and is on the right track to achieve the target," Kuo said in an interview with StarBiz.
He said that to be a fully integrated fibreboard maker, Evergreen would look into producing its own glue resin and having its own plantations for woodchips supply.
"The company will be less dependent on suppliers and this will certainly help reduce operating costs," Kuo said.
Evergreen has two plants - one in Parit Raja, Batu Pahat, and the other in Hatyai, Thailand.
The Hatyai plant - a joint venture between Evergreen and a Finnish company - is already producing glue resin. It could produce up to 150,000 tonnes yearly.
Kuo said 25% of the production was for internal use at its 75%-owned subsidiary Siam Fibreboard Co Ltd and the balance was for both the Thai and export markets.
Meanwhile, the Batu Pahat plant now buys 70,000 tonnes of glue resin yearly from Singapore.
Kuo said Evergreen wanted to have its own medium-sized plant making 60,000 tonnes of glue resin yearly.
He said the company was also looking to have its own plantations to reduce the cost of woodchips - the main raw material in making fibreboards. The ideal plantation size, according to him, is between 30,000 and 40,000 acres.
"The acreage is adequate to meet 20% to 30% of our total needs," said he, adding that the balance would come from suppliers.
Kuo said Evergreen would also focus on research and development (R&D) activities to ensure its long-term survival. He said it wanted to lessen its dependency on commonly used species such as rubberwood.
The company is working with the Malaysian Palm Oil Board to develop palm oil-based fibreboard.
Kuo said local fibreboard companies were strong in R&D, making Malaysia the third largest exporter of fibreboards in the world after Germany and Canada.
There are seven companies making fibreboard in the country with a combined production of 1.2 million cu m per year.
He said the majority of the production was for export as the domestic demand hovered between 200,000 and 250,000 cu m annually.
"The company has to increase its production capacity first if it wants to make each of its plants fully integrated," Kuo said.
The group has a combined production of 600,000 cu m yearly - 280,000 cu m in Batu Pahat and 320,000 in Hatyai. The company, through wholly-owned unit Evergreen Fibreboard (JB) Sdn Bhd, plans to acquire a fibreboard plant in Permas Jaya, Johor Baru.
An EGM will be held today to get shareholders' approval on the proposed acquisition of Takeuchi MDF Sdn Bhd's plant and other properties, as well as Takeuchi's contracts, for RM107mil.
The 15-year-old Permas Jaya plant, with a capacity to produce 100,000 cu m of medium-density fibreboard (MDF), is the first fibreboard plant in Malaysia. Some 70% of its production is exported.
The plant, located on a 10-acre freehold land, has 290 employees.
Kuo said the proposed acquisition would allow Evergreen to broaden its product range and expand its activities to include the manufacture and sale of "extra thin" MDF.
According to him, the attractive part is that the Takeuchi MDF plant has secured a supply contract for acacia woodchips for seven years from a supplier in Kota Tinggi.
Kuo said both parties had agreed on a fixed price for woodchips over the contract tenure - from 2005 until 2012 - which was an "unusual" practice in the industry.
With this plant acquisition, the group would be able to increase its production at the three plants to one million cu m annually within three years, he said.
Kuo said the company also planned to set up a third line at its Hatyai plant, boosting the annual capacity to 570,000 cu m from 320,000.
It is yet to finalise the investment amount, but he reckoned it would be between RM120mil and RM150mil and would most probably take place in mid-2007.
Kuo said the company was open to either setting up new plants or acquiring existing plants to expand its business.
"There are good opportunities now as there are many privately run fibreboard companies in the region," he said, noting that Evergreen was the only MDF producer listed on Bursa Malaysia.
Kuo said the local fibreboard industry was going through a consolidation period and there were many buyers willing to acquire these companies.
He said some of these companies were facing financial difficulties, so they were releasing their assets; others were divesting their non-core business to focus on core activities.
However, he added: "It is not true that the sector is becoming a sunset industry; in fact, we are still upbeat on the prospects."
He said Evergreen would look at several aspects before acquiring a company - whether it complement the existing business, any specialty in production or having a good workforce.
Kuo said taking these things into account, it would make the acquisition more smooth sailing and worth all the efforts spent on time and financial.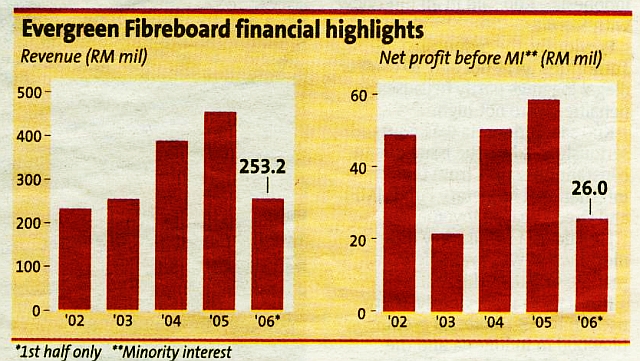 31-Oct-2019