1Q results show positive trend
The latest first-quarter results continue to show a healthy trend, with most companies of the Kuala Lumpur Composite Index (KLCI) reporting better earnings than in the same quarter a year ago. Analysts say the positive trend was the result of strong commodity prices and resilient consumer spending, which have offset slow manufacturing output and exports. In addition, the revamp of major government-linked companies is beginning to show results.
Research houses such as CIMB, JP Morgan and OSK Research have in their recent reports stated that between 74% and 86% of the stocks in their coverage have posted earnings that are in line with or above expectations.
The banking sector, the bellwether of the general economy, has performed in line with consensus. In general, banks saw better earnings after improving their loan books in the previous year. The stellar performer was Bumiputra-Commerce Holdings Bhd, which posted an 89.3% increase in net profit to RM615.4 million in the first quarter. There were, however, letdowns at AMMB Holdings Bhd and EON Capital Bhd, partly due to their exposure to the slumping automotive hire-purchase segment.
The plantation and timber sectors performed fairly well amid buoyant commodity prices. After a rally that began in the fourth quarter of last year, palm oil futures hit an all-time high of RM2,703 per tonne last week.
Plantation heavyweights such as IOI Corp Bhd and Kuala Lumpur Kepong Bhd posted strong net profit growth of 82.6% and 67.5% respectively in the first quarter. Smaller planters like Sarawak Oil Palms Bhd, a non-KLCI company, saw 287.6% growth in net profit to RM10.58 million in the same period.
Thanks to strong prices for logs and plywood, timber players such as Ta Ann Holdings Bhd and WTK Holdings Bhd also posted strong profit growth in the first quarter. Ta Ann's net profit surged 57.4% year on year to RM27.1 million, while WTK posted growth of 268.6% to RM29.3 million.
TSH Resources Bhd, which refines palm oil in Sabah and manufactures wood products, is benefiting from the growth in both the plantation and timber sectors. The company's net profit increased 144.6% to RM17.12 million in the first quarter.
The oil and gas sector delivered mixed performances amid delays in several major oil-related projects. KNM Group Bhd, a fabricator and contractor for oil companies, posted 93.4% growth in net profit for the first quarter, to RM38.3 million, while Scomi Group Bhd delivered a 62.1% growth in net profit to RM26.1 million. However, Dialog Group Bhd's net profit fell slightly by 3.7% to RM12.54 million.
In the construction sector, major players like IJM Corp Bhd and Gamuda Bhd managed to post modest earnings growth. These companies were able to tap their overseas projects while awaiting the release of mega projects by the government. Nevertheless, steel outfits such as Kinsteel Bhd and Southern Steel Bhd posted stronger results amid higher steel prices and better demand from private projects as well as the commencement of smaller projects by the government. Cement companies such as Cement Industries of Malaysia Bhd and Lafarge Malayan Cement Bhd also posted stronger results in the quarter.
The electronics and semiconductor sector continued to underperform the market. Globetronics Technology Bhd, Malaysian Pacific Industries Bhd and Unisem Bhd saw declines in earnings.
Going forward, analysts are banking on the construction, steel, and oil and gas sectors as well as the consumer segment for stronger earnings performance in the coming quarters. The plantation sector is expected to sustain growth due to prevailing high CPO prices. The banking segment, which may benefit from foreign equity and management participation, is expected to face challenges from more intense competition.
"The construction companies have had a mixed quarter, with most still reeling from the slow rollout of mega projects. Even though some may have been announced under the Ninth Malaysia Plan, most are still at the planning stage. Nonetheless, we remain positive on the sector despite this temporary setback," writes OSK Securities in a recent report.
With more construction activities to come, the stockbroking firm expects the steel sector to offer "much improved" performance in the second half. It also anticipates stronger performance from the oil and gas sector in the second half, with more projects coming onstream.
"Consumer recovery should boost the appeal of selected consumer and related stocks, due to the much-welcomed pay rise for civil servants, which becomes effective next month. The civil service pay hike will help cushion the expected slower growth in the manufacturing sector and exports this year, by boosting growth in the ser­vices sector, especially retail, and consumer spending," wrote Aseambankers last week.
CIMB is bullish on the property sector, due to the recent relaxation of rules on foreign purchases and real property gains tax exemption. The speculation that the government may give more incentives relating to property purchases may further boost the sector.
"With external factors remaining constant, corporate earnings growth for the coming quarters will generally hinge on further pump-priming efforts by the government as well as the implementation of more favourable policies to boost the domestic economy," says Cheah King Yoong, head of research at SJ Securities.
"But don't expect any big surprises. There is a lack of major catalysts for another round of major corporate earnings surprises, since commodity prices are at a historic high and there is more uncertainty in the external environment," says a director of an independent research firm.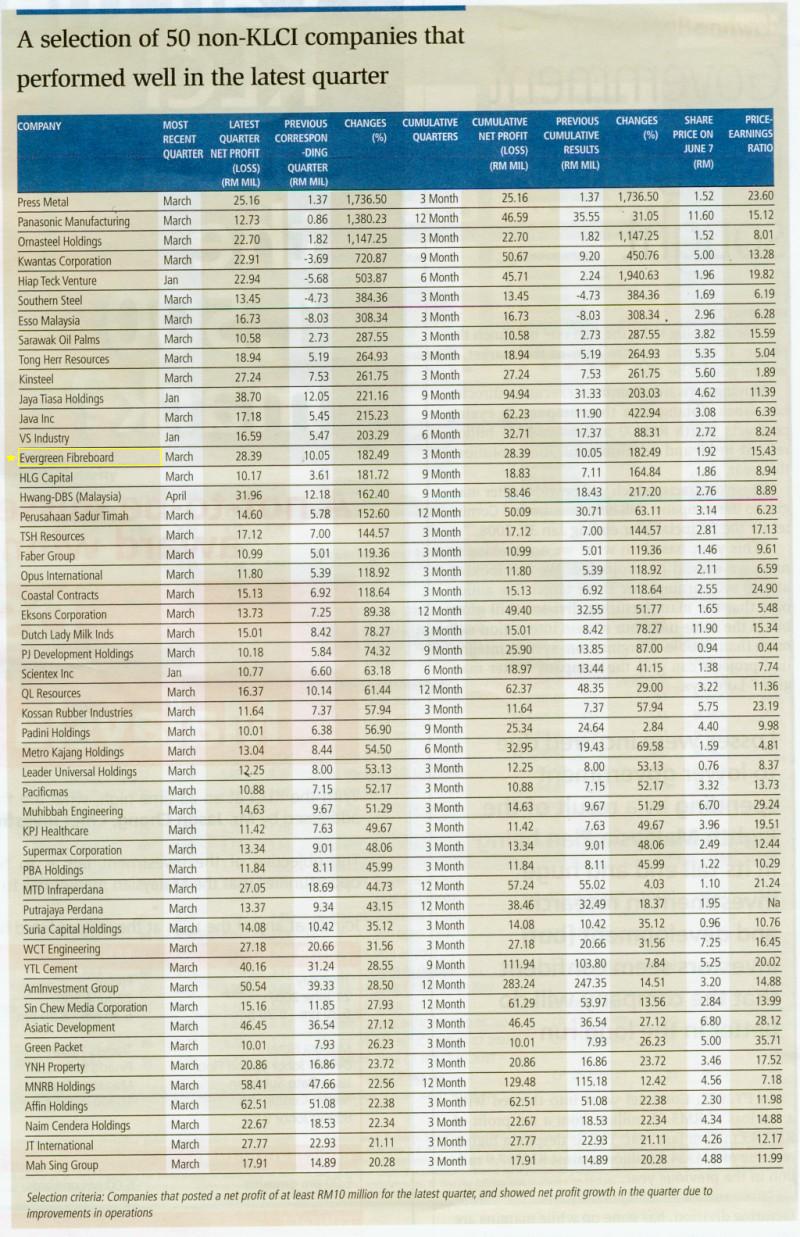 31-Oct-2019